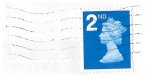 Today the Royal Mail have asked us all not to use post boxes so as to avoid backlogs when the strikes are over. There will be no deliveries until next Thursday. My question: since it was privatised, and mail delivery has been opened up for competition, why does this affect me? Why can't I just post a letter in a post box belonging to some Royal Mail rival?
UPDATE: Royal Mail was not privatised, but postal delivery was opened up to competition except for the last mile.
In the mean time, if you live near a nice old Post Office building and like using it: hurry up! Near me there's one in Post Office Road — POST OFFICE ROAD! — that's going to be closed when they move it into WHSmith. Has it really come to this?