A Home Finances Modelling Program
Expendable is a program for modelling things such as:
The offset facility of a mortgage account
A Fixed Term Deposit, to be paid into the mortgage account on maturity
A savings account, for situations where it is more beneficial than using the mortgage offset facility
Regular withdrawals from savings
Lump sum payments
Promotional rate credit cards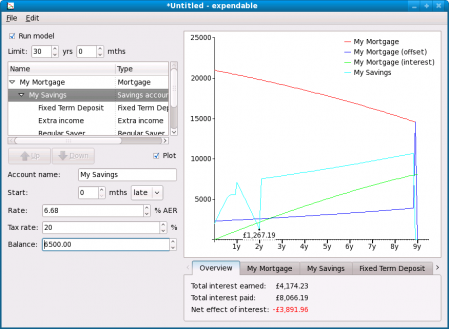 Download
Download tarball releases from:
https://fedorahosted.org/expendable/wiki/ProjectReleases
Examples and tutorials
I wrote a couple of short tutorials on using the main features of expendable:
Source Code
Fetch the source code like this:
git clone git://git.fedorahosted.org/git/expendable.git
or browse it using gitweb.
Updated/additional translations can be submitted using Transifex (see the translations statistics).
Bug Reporting
Report bugs using the trac interface.