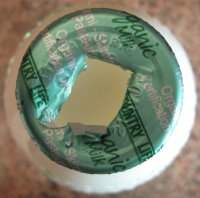 Looks like the birds in this area are wise to the old "peck the milk bottle tops" trick. But do birds like milk? I'm not sure I really see what's in it for them except to annoy people.
Of course, I'm assuming it was done by a bird and that the milkman didn't put his thumb through the top by accident — but if you look closely, it looks like there is a small hole that's been pecked (see exhibit A, left).
Anyone know what sort of bird does this, and why? Perhaps magpies, trying to collect silvery things?