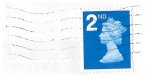 A quick search shows I'm not the only one this has happened to: having been in all day long I discover a card from Royal Mail has come through the door saying "Sorry you were out" and telling me to pick up a parcel the next day.
On the card are the following pieces of information:
Some kind of parcel ID number
The time
The date
My name
The first line of my address
The type of item (checked box)
The number of items (there are several this time)
A check in the box saying it's too big for the letterbox
The photo ID serial card number of the postman
A check in the box telling me to pick them up from the delivery office
The date I should pick them up
I coudn't write it all in less than 27 seconds.  Surely it would have been quicker to just ring the bell?