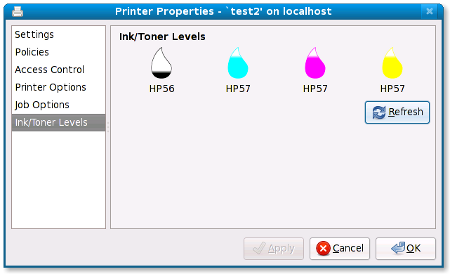 I've just added support to system-config-printer for displaying ink and toner levels for printers.  It's in the 1.1.x branch and will appear in 1.1.2.
It works by examining the IPP attributes defined by CUPS for reporting ink levels.  Any CUPS filter or backend can set these attributes, but the only real way they can be set currently is by using CUPS 1.4 (in beta) with a network printer that reports supply levels using SNMP.
The "Refresh" button pictured above sends a CUPS-COMMAND file to the queue asking it to report ink levels, and is only clickable for queues that support the CUPS-COMMAND format.