Thursday, January 8th, 2009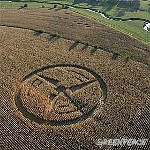 We use Ecotricity for electricity supply in our household, as they use the money we pay them to build new wind turbines.  Annoyingly, aliens are wrecking them. One early report said that a blade had been torn off and — ominously — was nowhere to be found (perhaps implying it had been abducted). A later report said that it was found at the foot of the wind turbine.  Probably should have checked there first.
Now the county councillor for the area has piped up with a report of seeing a "round, white light" with a "slight red edge" hovering near the wind turbines. So was it aliens, or mechanical failure? Either way, it mightn't be a bad idea to start installing cameras at turbine sites.