There has been quite a response to a comment made by Clive Wright on a previous post about digitizing 35mm slides.  Here's what Clive said:
Having recently purchased a new camera, a Fuji Finepix S8000fd with 8Mpixels & a SuperMacro facility focusing down to 1cm (0.4″). I placed a slide on a small lightbox and held the camera approximately this distance in front of the lens and produced a fair digitized copy. Even the facial detection system works in this copy mode!
To eliminated camera shake and make the copying easier I then designed and manufactured a simple rig to attach the camera to and position the slide to be copied at the correct distance cover the entire film area, negating any need to crop the digitized image as the camera has a 3:2 quality setting. I have used this rig with both a lightbox and with a white diffuser positioned behind the slide using either the sun or a 60watt lamp as the light source.
The beauty of this rig is that it doesn't require a steady hand (older people again) or the use of a tripod.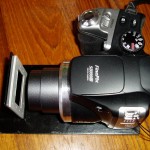 Clive has kindly given me permission to publish his design here, along with some pictures.  Thanks Clive!
On the left here you can see the rig with a camera attached and a slide in place.  Note that the design is specific to this model of camera and lens.  For other models, the length of the rig may need to be different to take into account the width of the camera and the minimum focusing distance of the lens.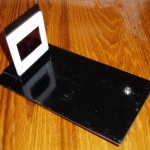 On the right is the rig on its own, with the camera fixing mount (screw thread) visible.
Below is the design in PDF format.